22 juillet 2010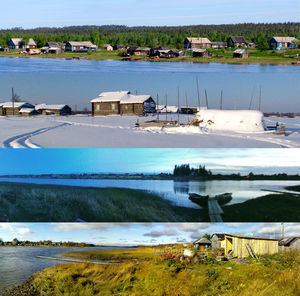 When it looks like not much has happened this last few month we actually have been busy with Hotel Gromada writing a new field recording and composition project that should take place next year in Panaajärvi, Karelia. We already spent two weeks there last autumn and want to go back for a deeper and longer project. The juminkeko foundation is our main partner but we are now looking for more money. Here is the summary, the full project will come soon!
When Vienna Karelia, the cradle of Finnish culture is annexed by soviet USSR in 1944 everything belonging to the Finnish past seems to be bound to oblivion. Forced migrations, cultural repression and dreams of a better future are the major factors of the extinction of the traditional Karelian culture. However, today, 20 years after the collapse of the soviet union and the opening of the borders, Vienna Karelia, still circled by primitive forest has its share of guarded secrets.
Build on the banks of the Kemijoki river, Paanajärvi -for the Finnish, Panosera for the Russian- is one of the oldest village of oriental Karelia. Its location and remoteness combined to the ban on new constructions because of a dam project which has been on for years contributed to the preservation of the village. Paanajärvi still lives in a close relationship with its environment and the monastic life of its inhabitants questions the visitor. It is still the case in 2010 but such a way of life is endangered for two reasons: if the project of a dam is brought to fruition the water will raise and inundate the village while the time slowly passing is the worst enemy of a culture which is fading away.
The 4 seasons of Paanajärvi is a project of collection of the soundscape which in its singularity and purity offers a wide range of variations over the seasons. Ambient sounds, accounts given by the inhabitants and compositions will be mixed together in a 4 acts project to create a diffracted portrait of this transforming village and its disappearing world.
Commentaires sur back to Karelia: The 4 seasons of Panaajärvi