08 mars 2011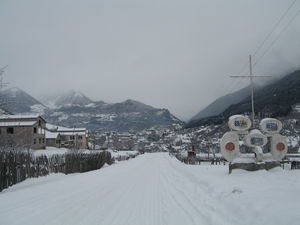 A few days in Tbilissi for to discuss with our partners and we're back in Svanetia. It's winter, it's cold even if the snow just arrived for real and the main objective of this trip is to record Lamproba. Lamproba or Lampari (depending of the place) is an ancestral celebration that takes place in nearly every village of Svanetia in honor of the defunct. It last at least two days. On the first day people gather with food and drink in the center of the village and sing, toast and drink in memory of the deads. The second day or the following night they gather in the cemetery and every family brings a bundle of firewood that is stick in the snow and left to burn while they pray.
To maximize our chances of getting some interesting recordings we split in two different villages were we recorded the celebrations and the soundscapes. (too busy recording and dealing with the local habit of celebrating with buckets of alcohol we don't have any pictures to show here)
The rest of the week was spent meeting our local contacts, getting in touch with interesting people to record on our next trip and of course recording in and around Mestia.
Commentaires sur February 2011: back to Svanetia!